Organization
The overall strategy to achieve the goals of the Center are schematically depicted in the figure below.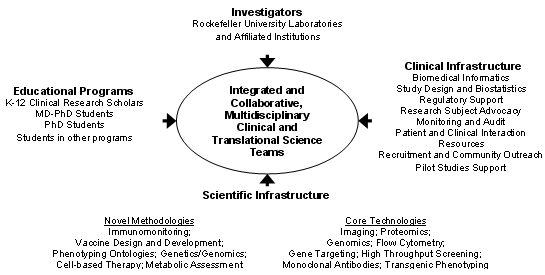 Investigators from the individual laboratories, along with their trainees who are participating in the educational programs (PhD, MD-PhD, K-12 Clinical Research Scholar Program) conduct collaborative, integrated, multidisciplinary clinical and translational studies in the Center for Clinical and Translational Science. They are be supported by a comprehensive and rigorous infrastructure to provide them with state-of-the-art technology in study design, study management, biomedical informatics, statistical analysis, and clinical team building. They have the resources of an inpatient research center and an outpatient research center, both of which have research as their primary mission, including the availability of a research pharmacist, a research hospitalist, and dedicated research nurses. They are supported by individuals with experience and expertise in protection of human subjects, regulatory interactions with the Food and Drug Administration, technology transfer, legal aspects of clinical and translational research, biomedical and research-related ethics, study monitoring, and study audit, as well as by a Clinical Research Support Office. They have the opportunity to apply for support for new initiatives from the Center for Clinical and Translational Science. In addition, they have access to an extraordinarily rich array of general scientific resource centers, including bioimaging, proteomics, monoclonal antibody production, gene expression analysis, high throughput screening, flow cytometry, and transgenic animal development and analysis. Moreover, they have access to emerging new clinical and translational science technologies currently under development, and uniquely available at Rockefeller University in the fields of metabolic assessment, molecular and cellular dissection of the immune response, novel methodology for genetic and genomic assessments, including miRNA profiling, innovative vaccine design, cell-based therapeutics, phenotyping ontologies, and multivariate u-statistics.
One goal of the Center is to provide infrastructure to conduct all clinical studies in accordance with the principles of Good Clinical Practice (GCP). The interactive elements that provide this support are depicted in the figure below. In some cases, the Center has implemented programs that go beyond the requirements of GCP, and these are also listed below.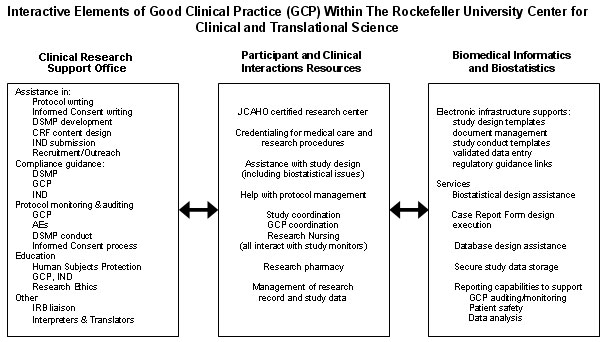 Abbreviations:
AEs: dverse Events
CRF: Case Report form
DSMP: Data Safety and Monitoring Plan
GCP: Good Clinical Practice
IND: Investigational New Drug application to the Food and Drug Administartion (FDA)
JCAHO: Joint Commission on the Accreditation of Hospital Organizations
Elements of the Rockefeller University Center for Clinical and Translational Science That Go Beyond Required Elements of Good Clinical Practice
Parallel daily reviews of laboratory values by both investigative team and Center research clinical team
Real-time review of Investigative team research procedures by Center research clinical team
Real-time oversight of Investigative team medical care by hospitalist
Real-time safety and study conduct trend detection (automated) with WISDOM
Integration of policies and practices by Clinical Research Officer (Research Support Advocate)