Community Engagement
Events
The Rockefeller University Center for Clinical and Translational Science (CCTS) welcomes communities, community partners, and other stakeholders to join us in a process of sharing information, priorities and responsibilities, building relevant skills and tools, and collaborative problem solving to address health issues of mutual concern.
As part of its core mission, The Rockefeller University CCTS fosters collaborations between researchers and community partners to improve the health of individuals and communities. Successful partnerships can work on multiple levels. Community engagement helps:
Researchers learn about community priorities
Practitioners align research with patients' needs
Communities impact the direction, design, outcomes and practical applications of research
Collaborations grow across many stakeholders to effectively conduct population-based research
Research results find their way into practice to improve health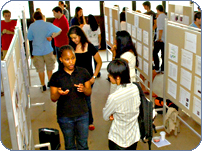 Community Engagement at the Rockefeller University CCTS encompasses many activities geared toward the general public and academic researchers, including education, outreach and practice-based research collaboration.