Community Partners and Scientists
Community Engagement Projects: 2010 - Present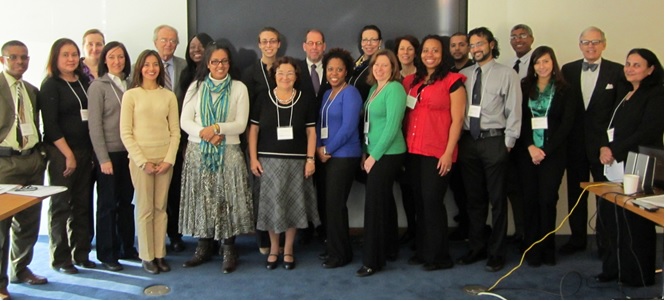 The CAMP Collaboration: Translational research in action, improving community health
Methicillin-resistant Staphylococcus aureus (MRSA) is antibiotic-resistant bacteria that can be spread through direct, close contact with infected surfaces resulting in painful skin infection. According to the Centers for Disease Control and Prevention (CDC), MRSA infections, once frequently seen in healthcare settings, are increasingly being diagnosed in community settings. One in three people carry Staph bacteria in their nose, without any signs of illness. Two in 100 people carry MRSA.[1] In an urban metropolis the size of New York City, hunting this microbe is a challenge that can only be tackled by a collaborative, multidisciplinary research team.
The CAMP Collaboration
In 2009, Dr. Jonathan N Tobin, Executive Director of the Clinical Directors Network, a nationally recognized practice-based research network (PBRN) Dr. Rhonda G Kost, Co-Director of the Community Engagement Core at the Rockefeller University Center for Clinical and Translational Science, and Dr. Alexander Tomasz of the Laboratory of Microbiology and Infectious Disease at the Rockefeller University, began to discuss their mutual interest in understanding the molecular epidemiology of MRSA infections in community-based hospitals and health centers in the New York Metro area. The Community Acquired MRSA Project was born. Since then, the collaboration has grown to include nine community health centers (CHCs) in three states (NY, TX, and IL), multiple academic investigators at Rockefeller, patients, and local business owners. What they found was intriguing – CHCs saw patients who were infected with community acquired MRSA (CA-MRSA) quite frequently. The majority of patients with CA-MRSA lesions were infected with the same type (USA300) regardless of geographic location or country of origin.[2] Approximately one-third of the patients were seen on multiple occasions because they had recurrent MRSA infections.2 The results of this collaboration reach beyond the collection of novel data on CA-MRSA. Community health clinicians increased their capacity to provide the recommended treatment for MRSA infections. Additionally, the CAMP team developed a collaborative research infrastructure that draws on the clinical and laboratory expertise of its members and also engaged the lay community to have a real impact on community health.
In the original CHC study, the research team discovered that a significant proportion of MRSA positive lesions were found on the head, neck and arms of patients. A clinical nurse at one of the sites determined that community outreach and education might encourage people to go to the health centers to have them checked out. Barbershops and hair salons are commonly recognized as central hubs in the community for information and resources. Because of this, the CAMP collaboration recruited nine barbershops and hair salons in the Bronx, Brooklyn and Harlem to share important information about MRSA and its prevention with barbers, hair stylists and other estheticians in the hopes they would be able to talk with their clients.
The CAMP Collaboration is a demonstration of how mechanistic science can be imbedded into a community-engaged research project, thereby spanning the translational science continuum to ultimately impact community health. Community members have an active role in defining the research agenda while academic scientists are able to dive deep into intriguing questions to uncover pathways to new treatments.



---
[2] Tobin JN, et. al. 2013. Clinical co-morbidities observed among patients with CA-MRSA in community health settings. Poster presentation at Translational Science 2013. Washington DC.